Leo W. Brown- A True Renaissance Man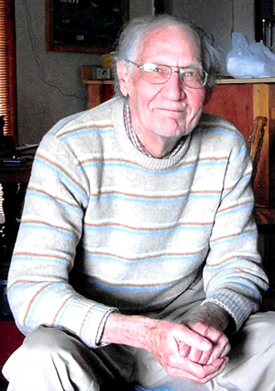 When Lela (Cudworth) and Farrel Osborn Brown welcomed their third born child into the world on April 10, 1929, they most likely could not have imagined the amazing life he would lead. They named him Leo Wayne and raised him up during a most difficult time in our history- The Great Depression. After they had Leo, they had two more children, making Leo the middle child with two sisters and two brothers: Phyllis, Farrel Junior, Marilyn and John Stephen (Steve). Sadly, Steve was killed in action in Vietnam.
Leo's parents made sure he graduated high school, as more often than not, many people of his generation did not finish high school, and then Leo's parents sent him into the world, never once imagining that they had raised a true Renaissance Man. He viewed the world as a place to learn, grow and make a difference.
Leo attended Hanover College for one year and then transferred to Purdue University where he earned a degree in Pharmacy. He graduated from Purdue with highest distinction. After graduating from Purdue, Leo served in the military as a corporal working in a Pharmacy. Upon completion of his military service, Leo went back to school to obtain his Masters of Science degree in Chemistry in 1957 from the University of Washington and then earned a PhD in Philosophy in 1961, also from the University of Washington.
Leo then set his sights on the world. Besides living in several states, including Alaska, where it "got to be twenty below and the snow was so fine you could inhale it into your lungs" according to Leo, he also lived in Australia. There, he was a Professor at the University in Sydney, Australia. Additionally, he travelled the world over and chronicled his adventures in a travel log.
Professionally, Leo has also left his mark on the world. He worked as a pharmacist in Washington and Michigan, but his biggest accomplishment was working on the design team that created the coating for Motrin, while working for UpJohn.
Leo did not limit his quest for knowledge to academia. He was also a highly accomplished, prolific artist. He played the trombone in a dance band, composed music, wrote poetry, penned pearls of wisdom, carved wood statuettes, and painted numerous paintings.
After retiring in 1981, Leo decided to make Salem, Indiana his home. He built a house and lived there for over thirty years.
If Leo's story ended here all would agree that he certainly made his mark on the world. However, his story does not end here. In 2019 Leo donated to the Washington County Community Foundation to create the Dr. Leo W. Brown Touch Tomorrow Fund. This fund will give back to Washington County in a multitude of ways, which is so fitting for a true Renaissance Man. More importantly, Leo's legacy will live on forever.