Happily Ever After Project


The Happily Ever After Project is an initiative of the Washington County Youth Foundation. The 2010-2011 officers of the Youth Foundation decided to address a complex issue that affects our entire community– Early Literacy. According to Rachel Dalton, 2010-2011 Wash­ington County Youth Foundation President, "This is a critical issue in our community. Our Youth Foundation can work on this for years to come. We can help to make a difference.
The Youth Foundation is capitalizing on the fact that elementary students think high school students are cool and high school students can be the perfect role models to promote a lifelong love of reading.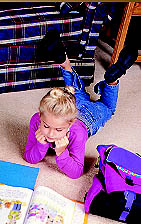 Phase 1: (Currently operating) In phase 1, high school students will visit elementary classrooms on a regular basis and simply read to the students. Our belief is that if high school students model be­havior that indicates that reading is "cool" then our elementary stu­dents will follow this example and buy into this belief. Elementary students are greatly influenced by high school role models. Also, the high school students will work on reading comprehension skills.
Phase 2: The implementation date for Phase 2 is yet to be deter­mined and hinges on fundraising. Phase 2 will target all Washing­ton County youth, from ages birth to five years old. These children can enroll voluntarily to receive an age-appropriate book, once per month, that will be mailed to their home. If a child enrolls at birth, he/she will have a personal library of 60 books by kindergarten.
As Aaron Johnson, 2010-2011 Vice President of the Washington County Youth Foundation, puts it, "We can't make a difference overnight, but we can make a difference over time. If we can get more of our third graders reading at grade level, then more of the youth in Washington County will grow up to 'Live Happily Ever After'".