Glenn Armstrong
For years, most people in Washington County knew that if you had a clock that needed repaired, Glenn Armstrong was your man. Through time and experience, Glenn was able to fix about any clock imaginable. "I fixed one of my own and then someone found out and asked me to fix theirs. It mushroomed." At any given time, he could have up to thirty clocks in different states of repair. Now, time has a different meaning for Glenn and those who knew him. Glenn passed away on May 27, 2004, but his generosity and legacy will live on in our community throughout time, through the Glenn Armstrong Touch Tomorrow fund in the Washington County Community Foundation.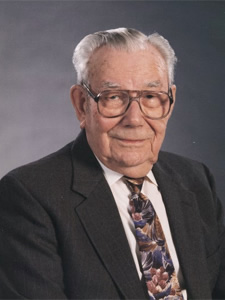 Glenn was born on March 14, 1912 to Stephen and Ada (Sherwood) Armstrong. His mother succumbed to Tuberculosis when Glenn was six months old. Shortly after her death, Glenn's grandmother, Amanda Sherwood, assumed responsibility for his care and raised him. Much later, in 1975, Glenn would be treated for Tuberculosis as well.
Glenn graduated from Hardinsburg High School in 1930. After graduation, he worked several jobs, including working at the Charlestown Powder Plant prior to WWII. In 1936, he married Georgia Roll.
At age 33, Glenn went into the family business, Armstrong Hardware, which was opened by Steve Armstrong, Glenn's father, in 1914. "I had worked in the store for years in my spare time," Glenn once said. "When WW II ended, the Charlestown Powder Plant (where he had been working) closed down." The timing was right for both Armstrong men since Steve Armstrong was ready for semi-retirement due to failing health. He later died in 1948.
"During WWII, merchandise was scarce," Glenn once commented. "As things became available we stocked more and more. We specialized in garden seed and spring plants. We had our own brand of seed."
In 1972, Glenn's first wife, Georgia, passed away. At the 1972 and 1973 Hardinsburg High School Alumni Banquet, Glenn spoke with Bernice Jones Mattox. Her husband had passed away in 1969. At the 1974 Alumni Banquet, he asked if they could sit together. And so started a second, beautiful chapter in both their lives. "We have been together ever since," stated Bernice. After eight dates, they were married on August 8, 1974. "I told Glenn that I had been praying to meet a good Baptist Deacon. He said, 'Well, God must have been all out of those, because he sent me, a Methodist Sunday School teacher. I think our marriage was made in heaven.'"
Glenn, being the sentimental, thoughtful type, saved many things including a card Bernice sent him after their first date and receipts from their honeymoon trip to Florida. Throughout the rest of their marriage, they managed to travel to all 48 continental states. They also traveled to Mexico, Canada and Nova Scotia. "We enjoyed traveling with Taft and Francis Morgan. Sometimes we would drive 600 miles in a day" recalled Bernice.
Two weeks after returning from their honeymoon, Glenn and Bernice received a special treat from all their friends, including members of the Lion's Club and the Methodist Church. Early one evening, they heard police sirens and the banging of pots and pans. The noise grew steadily louder and they realized that they were to be "victims" of the old fashioned custom of "Charivari." Being good sports for their friends, Glenn gave Bernice a ride around the town square in a wheelbarrow from the store.
Glenn and Bernice ran the store for many years. "People would come in and say, 'I love this store. It's just an old-fashioned hardware store. You don't see these much any more,'" related Bernice.
Glenn and Bernice employed many people throughout the years. Often times, Glenn would make an effort to hire high school boys who needed to earn money for college. "The boys were always a big help," recalled Bernice. "We would buy about six or seven tons of seed each year. I don't think we could ever have gotten all the packaging done without their help. We started stamping the packages as soon as planting season was over. In January we would make at least three trips to Noblesville to buy the seeds. Then we started packaging the seeds in .25 oz packages and up."
One of the young men employed by Glenn and Bernice, Brett Shull, later wrote to Glenn and Bernice, "I went from being a child to a young man during those four years at the store and having the two of you as role models during that time was indispensable to my becoming the person I am. I learned that we are all unique in some ways but in the important ways we are all the same… people want to be happy, healthy, to laugh to love and feel loved. I figured much of this out waiting on the customers that came in the store and watching the way you treated everyone with kindness and respect."
In 1989, after 75 years of family ownership, Glenn and Bernice sold the hardware store. "I hadn't planned seriously to retire although at my age I thought it was time for retirement" stated a 77-year-old Glenn. "A fellow (Cecil Miller) just came in and asked me what I'd take for it. I told him and he said, 'I'll take it.' And that was that. It's been a very pleasant experience. If it hadn't been for the customers, we wouldn't have lasted that long."
After his retirement, Glenn continued to repair clocks and served on the Mid-Southern (Salem Savings and Loan) Board of Directors, a position he started in 1958. He was also a life-long member of the Salem Lions Club and taught Sunday school for 50 years.
"He was a beautiful person and everybody loved him," stated Bernice. "Glenn always said that Washington County gave him a lot and he always wanted to give something back."
Many people will benefit from Glenn and Bernice's generosity and thoughtfulness. Through the creation of the Glenn Armstrong Touch Tomorrow fund, grants to non-profit organizations in Washington County will support numerous worthwhile community projects. Glenn's wish to give back to the community will come true, year after year, forever.