Dr. Eddie Apple
Helping others was a way of life for Dr. Eddie Apple. So it's no surprise that shortly before his death, a group of people, whose lives he touched, set up a fund through the Washington County Community Foundation that will continue helping others long into the future. Dr. Apple's fund was started in 2007, a year before his death.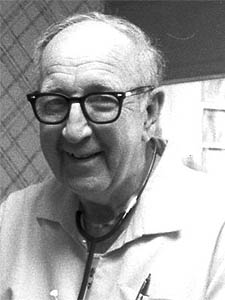 The Dr. Eddie Apple Family Community Youth Development Fund awards money to various organizations that help advance youth in Washington County. Apple was born in French Lick, Indiana, on November 10, 1925, to Charles and Ethel Palmer Apple. In 1947, he married George Ann Pope and in 1951, he graduated from the Indiana University School of Medicine. Their first child, Sally Ann, was born that same year, but died shortly after birth. A year later, the doctor opened his practice in Salem, where he stayed and took care of county residents for more than 50 years. Apple's second child, John, was also born in 1952, followed by Susan in 1954 and Marcia Meadows in 1956.

The Apple family grew up on the corner of Market and Homer Streets. The doctor's office was on the corner and their house sat just to the west.

Many residents have shared stories over the years of Apple's dedication to his patients. His waiting room was filled will patients every day and he took care of each one of them without complaint. He even was known to come in during the night, on holidays and Sundays. Whenever his patients needed him, he was there.

Apple was the last of the "old time" doctors in Washington County. He was preceded in death by Dr. Huckleberry, Dr. Tower, Dr. Charles Carty and Dr. Martin, all who were also known as compassionate doctors who took time to know their patients, making house calls at all hours and going the extra mile.

Apple was so devoted to patients, that many of his colleagues can only remember him closing his office one time, to attend the 1964 Rose Bowl to cheer on the Hoosiers. He was an avid IU fan.

His love of sports showed at the local level as well, as several years he donated his time to give free physicals to athletes and attended athletic events to assist in case of injury.

Dr. Jeff Morgan said Apple was "an icon of what a doctor should be. He was the epitome of a dedicated, unselfish physician who definitely had his patients' best interest in mind at all times."

In 1972, he was appointed to the role as Washington County Health Officer. A position he held for 36 years. During that time, he worked with Susan Green, who is in charge of maintaining the county's vital records. Green said Apple "was the most giving doctor. (He) made major sacrifices for the good of the community many times over. He pretty much gave his life to it. You don't see that kind of dedication in today's world. He was the old-time doctor who gave it his all."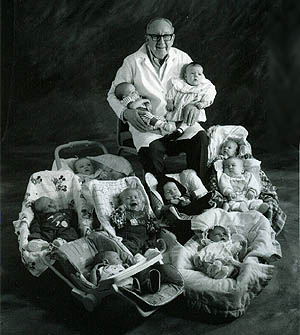 Apple always put everyone else's needs first, as was evident in 1985 when he and his wife were involved in a head-on collision. George Ann was killed in the accident, but Apple survived and six weeks later, with two broken legs, a broken hip, chest and head contusions and fractured hands, he returned to his medical practice.

He continued seeing his patients and delivering babies for a year in his wheelchair, before graduating to a walker, then a cane before finally recovering.

During his medical career, Apple delivered nearly 10,000 babies, including both of his grandchildren and his two great-grandchildren.

Nancy Armand, who worked with Apple off and on for 40 years, said he was a "very, very hardworking doctor." She said he took care of all his patients, rich or poor; he didn't worry about getting paid.

Another nurse who witnessed his dedication and was inspired to start her own career in the medical field was Jinny Scifres. Scifres worked for Apple for years, going to school and learning to be a nurse. She eventually became head of nurses at Washington County Memorial Hospital.

The two were so close, that after her death from cancer in 2000, Apple helped establish a scholarship with the WCCF in her memory. In 2003, A Rotary Club "toast" to the doctor raised $5,000 for the fund. Apple officially stopped seeing patients in 2002, although he still went to his office every day.
His memory will live on forever thanks to his generosity and foresight to create a fund with the Washington County Community Foundation. Apple's name and legacy is one that won't soon be forgotten.
Some of the information gathered for this story appeared in articles printed in The Salem Leader and The Salem Democrat.