Todd and Beth Armstrong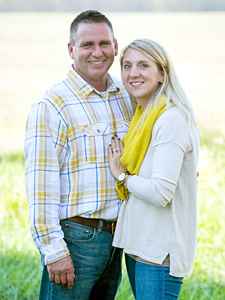 Very few would say that they don't have a desire to make their community a better place to live. However, saying and actually doing can be two very different things. While some individuals take the back seat, others decide to take the lead in improving and investing in their community. Todd and Beth Armstrong are definitely two individuals who have taken the front seat in helping to improve Washington County.
Todd Armstrong is the son of Ken and Diana Armstrong. He grew up on his grandparents' farm along with his older brother, Scott; and his younger sister, Amy. Todd could often be found by his grandparent's, Ray & Amanda Armstrong, side as they completed the daily chores that come with operating a farm. It was his close relationship with them that planted the seed for his love of agriculture and growing up on the farm.
Todd's love was not only for agriculture but athletics as well. Todd was always a good athlete, playing both football and golf while in school. He attended West Washington High School, graduating in 1991. Upon graduation, Todd made his way to Indiana University to study business. However, it was very little time before he realized that he wanted to pursue a career related to one of his main passions: agriculture. Upon that decision, he transferred to Purdue University. He then graduated in 1995 from Purdue with a bachelor of science in agriculture.
After graduating, Todd quickly put his degree to use when he was hired by AgriGold as a salesman. After being assigned to 18 counties in southeast Indiana, he set to work building his customer base. "I really enjoy working with farmers in the area," says Todd of his job. In 2004, he met a new person in the marketing department who caught his attention. Beth Wilson had just started working at AgriGold that year after graduating from the University of Illinois.
Beth was born to Jeff and Sharon Wilson of Olney, Illinois, in 1981. She also grew up on a farm that had been in her family for over 100 years. Her love for agriculture was born at a young age as she helped out on the farm, along with her sister Jamie and brother Matt. This love would only grow with time as she learned more and gained more experience. All throughout her years in school, Beth remained active in 4-H. Once she reached her freshman year at East Richland High School, she also joined the school's FFA chapter. Before graduating in 1999, she had held various leadership positions in the FFA, including the honor of being elected to serve as the State FFA Secretary.
To no surprise to those who knew Beth, she decided to major in agricultural leadership education at the University of Illinois. It was not long after graduating that she was offered a position in the marketing department at AgriGold. Little did she know that this job would also lead her to her future husband. Todd and Beth started dating shortly after. "Our immediate connection was talking about our family farms," they both recall. The connection must have gone deeper than farming, however, for the two would marry in 2006.
Upon getting married, Beth took on two new challenges: finding a job in Washington County as well as being a step-mom to Todd's two children, Parker and Mason, who were eight and four at the time. Being a person who had always loved working with kids, the fact that her and Todd's relationship involved children from the very beginning never made her think twice. As she began looking for a new job, she wanted it to involve one of her two biggest passions: agriculture or youth.
In little time at all, she was presented with the opportunity to become the Youth First Coordinator through the Washington County Community Foundation. "I was excited to not only be working with kids but also be working within the county," says Beth. Since then, she has been working to provide youth in the county with more opportunities and needed services. The work that she has been able to do over the years has brought her a tremendous amount of joy. "I love what I do, and I love knowing that the work I do each day is not only bettering our community but also benefiting where my kids will grow up."
"Beth is the perfect person for her job. Even though she is not a Washington County native, she has a deep love for Washington County and a deep care for the youth of Washington County. She wants to see them prosper and have as many opportunities as possible," states the Program Director of the Washington County Community Foundation, Lindsey Wade-Swift.
Following Todd and Beth's marriage in 2006, they built a home on Todd's family farm, where they farm 400 acres of land. They also stay busy raising Angus cattle on top of already demanding careers off of the farm. Todd and Beth have also been blessed with two additions to their family. The first to come along was Jack in 2007. He was then followed by Charlie in 2009. Parker, Mason, Jack, and Charlie have kept the two busy. Just as Todd and Beth are busy, they encourage their kids to stay active as well. Their kids are active in a variety of sports, 4-H, volunteering, and church activities. You will find Todd and Beth alongside the kids frequently, serving as volunteer coaches and helpers.
Todd and Beth have gone above and beyond to benefit not only their own children but also many others in their community. In order to support the continuation and growth of agriculture in Washington County, Todd serves on the West Washington Agriculture Advisory Board. He is also involved in the community through owning and managing two apartment buildings, Mason Manor and Grandview Manor North. Beth also does her part in promoting agriculture by serving as a 4-H leader. Besides doing that, she is a Big Sister through the Washington County Big Brothers Big Sisters program, as well as a member of the Prevent Child Abuse Council, the Substance Abuse Council, and the Good Samaritan Inn Board.
Todd and Beth Armstrong simply love their community. Not only do they find joy in being involved in the community; they also enjoy just simply being at home and being outdoors. "We love where we live. There is a rich history of agriculture, and it is beautiful," states Beth. Due to their love for Washington County, they made the decision to start the Todd and Beth Armstrong Youth Development Fund through the Washington County Community Foundation in May of 2008. "We believe that investing in youth was a great way to invest in the future of our community," Beth stated. Their desire is to do their part in helping to improve the lives of the young men and women of their community. They also hope to instill the importance of volunteering and giving back in their own children, just as their parents did for them. Thanks to their generosity, the Todd and Beth Armstrong Youth Development Fund will continue improving the lives of youth in Washington County for many years to come.
Perhaps the biggest accomplishment of all for Beth was something that we all strive for: Beth left our community better than when she found us. She approached every opportunity to help out with a "no holds barred" attitude. She was the first to show up and the last to leave. She truly gave all she could and then some. Beth left us entirely too soon in October of 2020. But while she was here, she dazzled us all.
At Beth's passing, her family requested donations to our Foundation in lieu of flowers. In total, Beth's friends and family made over 260 donations totaling over $35,000 primarily to the Todd and Beth Armstrong Youth Development Fund, which was started in 2008. Beth's family and friends will help her lift up our youth forever. This was one of Beth's dreams: to help our youth SHINE.