COLE, Frank and Jo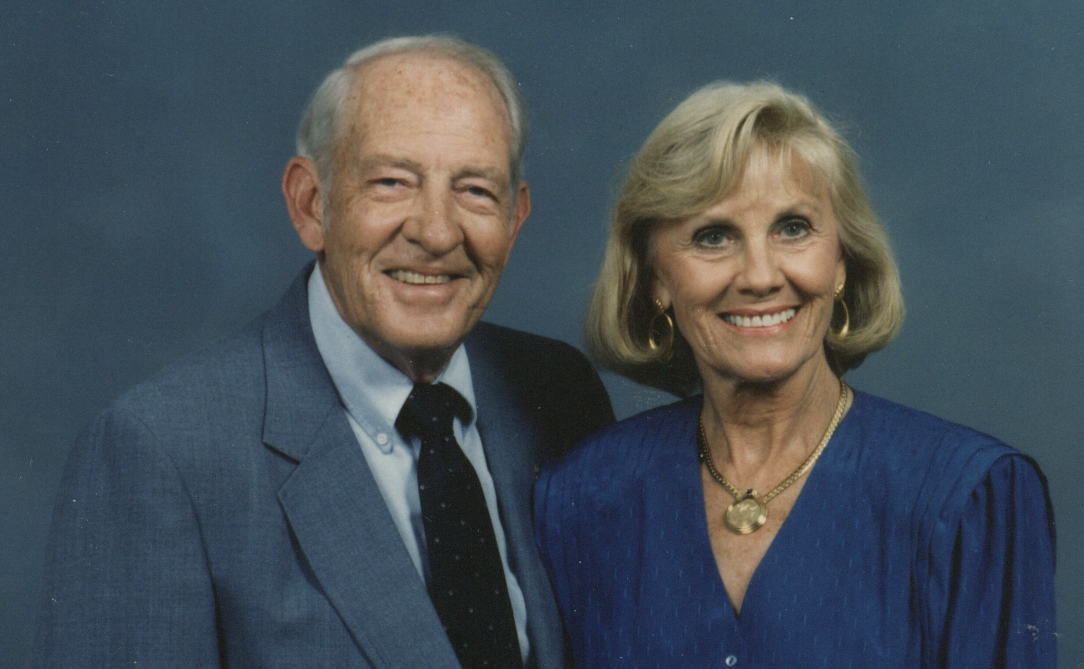 "Live life to the fullest!" That is the advice that Frank and Jo Cole wish to share with others. "Live each day and learn something new every day." Those who know Frank and Jo know that they practice what they preach.
Frank was born November 15, 1921 to W. Frank and Ethel (Cullen) Cole in Bowling Green, Kentucky. "My Dad gave me his name, right down to the W. The W. doesn't stand for anything!" He attended school in Bowling Green and graduated from Bowling Green High School in 1940 in the top 10% of his class. After graduation, he attended the business university but was called to serve in his Uncle Sam's Army Air Corps in 1942. Frank served in both the European and Asian Theaters. He was honorably discharged in 1946 and returned to college.
Joanne was born in Owensboro, Kentucky on January 10, 1930 to Alton Puckett and Margaret (Lyon) Puckett. At the age of nine, Jo contracted scarlet fever and diphtheria at the same time. "Our house was quarantined," remembered Jo. "My Mom sat by my bedside and read the entire set of The Bobbsey Twins. Then she read all of Bunny Brown and His Sister Sue books. I think that is where I developed my love of reading."
Jo graduated from Daviess County High School in 1948. She was the first to be crowned Miss Daviess County which was the preface to entering the Miss Kentucky contest. The Davets, a local men's club, sponsored her to go to the Kentucky State Fair for the contest.
"One Davet , his wife and my mother went with me. I was named Miss Kentucky and had made a speech when the judges said there had been a mistake. Their excuse was that Dottie Knuckles and Joanne Puckett sounded so much alike that they said the wrong name," said Jo. The Davet sponsor stayed and talked with the board and judges until 4:00A.M. No satisfaction was reached. Because of this situation, the Miss Kentucky contest is no longer held at the State Fair. "I received many kind letters when the news hit the streets. It was a very learning experience."
Jo had the opportunity to meet Florence Henderson when the two of them were in musicals in Owensboro. "She was only about 15 at the time," recalled Jo. "She had a beautiful voice and I encouraged her to go to New York to study, which she did. She sang with my father's band for a while. Most people will remember Florence as the mother of the TV "Brady Bunch." Bob Hope, the well known comedienne and movie star came to Owensboro for a show in 1950. Joanne had the opportunity to be on his show as a model. She and Frank had dinner with Bob Hope, Marilyn Maxwell, and Les Brown and "his band of renown" prior to the show. What a great evening!
Frank graduated from Western Kentucky University in 1950. While there, he met the love of his life, Jo. Jo's date for the evening actually introduced them. "I knew the minute I saw her that she was the one for me," stated Frank. "It just took me several months to convince her to go out with me."
"I didn't want to date someone who was so much older than me," explained Jo. "We met in the fall but didn't actually go out until a formal dance held in January." Frank astounded both this author and Jo by recalling exactly what she wore for that first date, a grey suit made by her mother and a gardenia corsage, given to her by Frank. "She was beautiful," recalled Frank.
After deciding to marry, Jo quit college to get a job to pay for the wedding. "The night before our wedding, Frank was crowned Talisman King. I had to leave before midnight, for good luck, but he stayed and danced with the queen. I was so upset that I decided not to marry him. Thank goodness I changed my mind!"
After the wedding Frank and Jo both worked at General Electric. "We had a big decision to make," stated Jo. "Frank had the opportunity to go back in the service during the Korean War. I think if he had, he would have stayed in and we would have traveled the world." However, they decided that fighting in one war was enough for Frank. "I had been in WWII for 4 years and just didn't think I wanted to go back and fight another war." Unbeknownst to them at the time, Frank would be called to serve again in the Cuban Missile Crisis.
All three of Frank and Jo's daughters, Deborah, Leslie and Julia, were born during the twelve years that Frank and Jo lived in Owensboro, Kentucky. Frank worked for GE for eight years and then accepted a position for Texas Gas Transmission. He worked with them until 1962, when he accepted a teaching position at Salem High School. He continued to work as a teacher, coach, and Athletic Director until he retired in 1982. While teaching, Frank was also in the Air Force Reserves. He retired as a full Colonel.
Jo returned to school at the age of 35. She graduated from college with a BS degree in Education from IU the same year their oldest daughter graduated from high school. "It was a struggle," recalled Jo. "I usually left Salem at 7:00 and got home around 5:00. Sometimes I studied until midnight. In addition to our three daughters, I was also caring for my mother-in-law. Winter was an especially hard time."
After Jo graduated in 1970, both Frank and Jo kept up their hectic lifestyle. At different times, Frank coached football, basketball and golf. He served as a Deacon then an Elder in the First Christian Church (Disciples of Christ) and was granted Elder Emeritus. Frank also served as Township Trustee for 17 years. Frank also served as President of Exchange Club for two terms and District President for one term; President of the Salem Education Foundation for two years; and President of the Classroom Teachers Association. Frank was active in Community Theater and served as President of that organization as well. He and Jo received the first lifetime achievement award from the Washington County Actors Community Theatre. Frank also chaired the City of Salem's Bicentennial Celebration and was commissioned as a Kentucky Colonel in 1972 by Kentucky Gov. Wendell Ford.
Jo also maintained a very hectic schedule. In addition to her job as a high school English teacher at Eastern High School, she was a Pep Club and cheerleader sponsor; started the first girls' track team at Eastern High School. For five more years she worked on her master's degree along with these duties.
In the summer Jo coached and taught swimming and lifesaving while Frank managed the city pool. In fact for several years the entire family worked at Myers Pool because the girls were lifeguards. In 1976 Jo added officiating volleyball, track and swimming to her already busy schedule. Jo started teaching swim lessons at the age of 15 and has taught over 6,000 youngsters and adults to swim over a swimming instructor career that has spanned over six decades.
Jo was also a member of the Washington County Chamber of Commerce, Washington County Actors Community Theater, The Woman's Club (president two years), Tri Kappa (24 years)(served as president, vice president, secretary), Associate Tri Kappa(president) and the Retired Teacher's Association (secretary 1990-1994). Jo also served as a Diaconate and then became an Elder at First Christian Church (Disciples of Christ). She was an active member of the choir for many years.
Jo has received numerous awards for her volunteer work: Certificate of Merit from President Kennedy; and from the Red Cross the Clara Barton Award, Meritorious Volunteer Leadership Award, Special Citation for Exceptional Volunteer Service, and the Regional Health and Safety Award. Jo has served on the following boards: Awareness Washington County, 1993-1996; Clark County Red Cross 1994-1997 and Chairman of Women's Golf at Western Hills.
Jo also enjoyed Community Theater. She has been in almost 50 different productions. She has made numerous regional television commercials, (she also convinced Frank to audition. He has been in several commercials as well.) In her spare time, Jo enjoys swimming, skiing (water and snow), tennis, golf and horseback riding.
After retiring in 1992, Jo and Frank started spending their winters in Naples, FL. There they are active in the local community. They joined the church choir, and golfed a few times a week. Jo even had her first hole in one in Naples. Frank was elected to the Blue Sky's Board of Directors and served as Secretary. Jo was in charge of the social activities in their residential community. Jo also enjoys spending time with her Red Hat Society friends, the Belles of Blue Sky.
Frank and Jo have both learned to live life to the fullest. As educators, they also value college education and realize that for many youth in Washington County, the dream of attaining a college degree is unattainable without some financial assistance. That is why they established the W. Frank and Joanne (Jo) Puckett Cole Scholarship fund with the Washington County Community Foundation, which will award scholarships to Washington County graduating high school seniors. Through this fund, Frank and Jo will be able to speak out to many youth for generations to come. Their message will be clear: Live your life to the fullest and always see the glass as half-full.