Jason Wade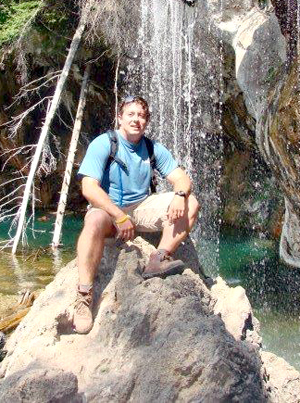 "Don't show me how much you know until you show me how much you care," says Jason Wade. As an elementary school principal, Jason firmly believes that the most important piece of being an excellent educator is truly caring about students. From his first day in the classroom to his time as an administrator, Jason has been working to show his students how much he cares about them and how much he desires to see them succeed.
Jason Wade was born in Salem, Indiana in 1975 to Wron and Nona Wade. He grew up in Washington County, going through the Salem School Corporation. He and his younger sister, Lindsey, enjoyed growing up in the country, playing together outside for hours at a time. "Jason always convinced me to do really stupid things, and I would do them every time because I knew he would never let me get hurt," Lindsey recalls. Even climbing tall trees and onto roofs, Lindsey was always able to trust her brother. They were both also involved in 4H and Junior Leaders for many years. Jason and Lindsey have always considered themselves close. "We might not always get along, but we know we're always there for each other at the drop of a hat," Lindsey says with confidence.
While in high school, Jason devoted a great deal of his time to playing his favorite sport: football. He played as an offensive guard all four years of his high school career under Coach Jim Ralston before graduating in 1993.
Following high school, Jason made his way to Indianapolis to study elementary education at the University of Indianapolis. He had known for many years that he wanted to become a teacher. After working with many children through 4H and Junior Leaders, he was inspired to follow his love for helping younger children through becoming an elementary educator.
It was during his years at the University of Indianapolis that Jason learned what it meant to really work towards a goal. "I didn't apply myself until after high school," he recalls. However, while he was in college, he took a full load every semester and eventually realized he had enough credits to double major in history. He also spent many hours working as a resident's assistant on campus. The summer before his senior year, he had another exciting opportunity: spending four weeks in India with a school program. In 1997, he graduated with a bachelor's degree in elementary education and history, as well as a kindergarten endorsement.
Jason's first position as a college graduate was as a first grade teacher at Eagle Creek Elementary in the Indianapolis area. He continued teaching first grade for four years before switching to second grade for one year. It was during this time that Jason took on another challenge: earning his master's degree in administration at Butler University.
After finishing Butler's Experiential Program for Preparing School Principles (EPPSP), Jason applied for and earned the assistant principal position at Central Elementary. He also served as the assistant principal at Kitley Intermediate School for five years. This school, which only consisted of fifth and sixth grade students, was a new and challenging experience considering it had 1,450 students. From Kitley, Jason moved on to a principal position at Acton Elementary, where he worked for one year before becoming the principal at Kitley Elementary. This will mark his second year in this position.
During his time as administrator, Jason also met his future bride, Sesley Koozer. Sesley was and still is a special education teacher at a middle school in the same district as Kitley. On August 18, 2008, they were blessed with the birth of their first daughter, Flora. Flora will soon be a big sister with the birth of their second daughter, who is due in November. Both Jason and Sesley are passionate about helping underprivileged children and needy families. They organize a number of different outreach programs in an area where they see many families struggle with socioeconomic problems. "I want to be there to help support kids," Jason states. Always on the lookout for students who may be in need in some way, Jason has worked to find ways to provide them with clothes, school supplies, backpacks, or whatever else they might need. At Christmas time, he often organizes a Christmas program in his community to help ensure that children are able to receive gifts. He said whatever need that arises such as this that he becomes aware of, he tries to do something to help.
After many years in the field of education, Jason says he truly loves teaching. Having been a first grade teacher for many years, he loves seeing the glow in the eyes of a child when he or she learns to read independently or finally "gets" a new concept. "It's almost like an explosion takes off in their mind," he says. Jason truly has a passion for enabling students. While some may be impatient with the students who are difficult to teach, he sees the students that fight back as the ones who need someone to care about them the most. He has a strong desire to be that person for those students.
When asked why he made the decision to step out of the classroom and go into administration, he responded, "I wanted my classroom to get bigger." His desire as an administrator is to have the capability to make a positive impact on more kids. He has always been good at relating to his students. Laughingly, his sister Lindsey credits this to the fact that he had a few mischievous days himself when he was young. Jason also hopes to be a strong leader who fills his school with amazing teachers who truly care about kids. He says this is the key to anyone being a good teacher. "You can help them learn the curriculum, but you can't teach someone how to care," he says.
Away from his career, Jason enjoys spending time with his family as well as traveling and being outdoors. He has currently travelled to over half of the U.S. states, as well as India, several places in Europe, and the Dominican Republic. He also has a love for running, which has led him to complete eight marathons to date. He has done the Chicago Marathon three times and has also made his way to California, Louisville, and Cincinnati to compete. Jason has also found a love for several extreme sports, including adventure racing, mountain climbing, and skiing.
As an educator, Jason Wade truly cares about students. He desires to help them to grow and to see each student succeed. He looks back on his own school career and realizes that he was one of those kids who did not always give it their all or work as hard as he could have. After going through college and beginning his career, he wanted to help others know that it is important to apply yourself and to not let opportunities or experiences pass you by. He now realizes that you get an opportunity one time and one time only.
Because of his passion for enabling students and his love for being an educator, his sister, Lindsey Wade-Swift, began a scholarship fund in his honor through the Washington County Community Foundation. The Jason E. Wade Scholarship Fund, started in 2012, provides a scholarship to a Salem High School graduate who is pursuing education and demonstrates strong character. Jason desires to see this scholarship go to an individual who is not necessarily near the top of his or her class but who has a true desire to become an educator. "I want this to go for that boy or girl who might not be the strongest student but who has a passion for helping kids and making a positive impact on kids' lives," he says. Thanks to his sister's generosity, the Jason E. Wade Scholarship Fund will help students such as this pursue their career in education.