Bill and Marilyn Bauriedel
Although I have lived in many places during my life, when I return to Washington County and revisit places and people associated with my childhood, I always feel like I am coming home. One of the WCCF Board members welcomed me to the WCCF community as a member of the Washington County "diaspora". I appreciate that description because during my childhood it always seemed like I was just arriving or just leaving Salem.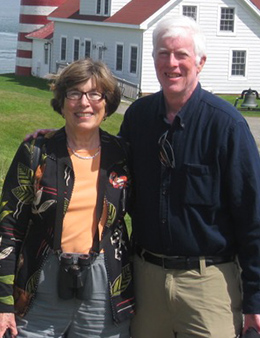 I first arrived via train from California for a visit with my extended family when I was 11 months old. After that because my family moved frequently due to my father's job assignment changes, Salem was like an anchor in ruffled waters. Christmas wouldn't have been Christmas without spending it with my great aunt Dora Etzler and with Auntie Rete and Uncle Ray Staples and cousin Susan under the Christmas tree in the "parlor" at 300 W. Market St., the home that my Etzler great grandparents had built in 1894. If we lived close enough, our family also spent Thanksgiving there.
Rolling down the grassy slope in front of the house or catching fireflies and releasing them on warm summer nights or making games or imaginative play out of found objects, like an antique coffee mill, from the "shop" behind the house were favorite summer pastimes as I spent most summers of my childhood in Salem. A board and brick became one of our circus acrobatics props. I fell asleep and awoke to the steady, reassuring sounds of the Courthouse clock on the Square striking the hour.
I began first grade in Miss Bradie Shrum's class. Miss Bradie, who after retiring was called to return to the classroom because of a post-WWII teacher shortage, had been my mother, Pauline Etzler Ursu's, first grade teacher. I also spent a six-week period of third grade and two six-week sessions of fourth grade, all of sixth grade, and half of seventh grade at Salem Grade School. I was baptized and confirmed at Weir Memorial Methodist Church. It was very reassuring whenever I returned to Salem to be able easily to resume the friendships I had made earlier among my classmates and to feel that family friends, neighbors, and church members genuinely cared about our family. In those years people would often drop in for a cup of coffee around our kitchen table. I remember well taking my cookies and sewing projects to the County Fair as a member of 4-H, marching uphill to Crown Hill Cemetery in "Decoration Day" parades, and going on a Girl Scout group hayride near Beck's Mill in the crisp fall air.
The attachment to Salem, Indiana family and heritage gave me roots during a rather rootless childhood when I was always the "new kid on the block." On my wall at home in Palo Alto, California, a town I've lived in for 46 years, I see every day a painting created by Washington County's Viola Lindley, who was one of several women artists who positively impressed and inspired me with the idea that women could carve out a real life all their own out of their own creativity. Even though I have very strong roots now in California, I love the fact that the painting with its autumn scene of "the Knobs" road continues to connect me with Washington County. I love to conjure up a memory from my middle school years of meeting Viola Lindley in her home when she had a little business offering lunch and tea to visitors. I can still see the flowers she stenciled on the wall of a small room in her house.
~~~
Marilyn Bauriedel now resides in Palo Alto, California with her husband, Bill. Bill was born in a rural county in the town of Eureka, CA. Marilyn says that his hometown has characteristics that remind them of Washington County.
They have two children and four grandchildren spread across the United States that they love to visit. Throughout her adult life, Marilyn has practiced law in Silicon Valley and taught Business Law in a community college, on which she commented, "I felt good that I could help the students get involved in their own learning." Bill retired in 2007 from working in IT at Stanford University. Marilyn commented, "He rode his bike to work for over 35 years every day!"
She has also been very involved in the civil rights movement, the preservation of open space lands for wildlife and people, community leadership programs and her church, and says that historic preservation is one of her passions. Marilyn and Bill's favorite volunteer activity for many years is leading interpretive nature hikes and bird walks for Mid-Peninsula Open Space District and teaching young people about the connectedness of all living things. As a 50-year member of P.E.O. (Philanthropic Educational Organization), Marilyn works with young women to help them apply for P.E.O.'s scholarship, grants, and loans for higher education. When she gets free time, she enjoys travelling with her husband to places such as Paris, Berlin, Spain and Hawaii. While these endeavors have drawn her away from Washington County, the strong roots that she has allow Salem to always feel like home.
Bill's parents, who created a fund with the Humboldt Area Foundation, inspired Marilyn and Bill to give back. Through a fund established with the Washington County Community Foundation, Marilyn is able to give back to the community that gave so much to her throughout her childhood. Because of this, she can make a difference in Salem even if she cannot be here herself, and her gift will do good, forever, for Washington County.